One of a Kind Babies....As Unique as You!

What is a Reborn Baby?

Reborn babies are ordinary dolls that are painted to look as realistic as possible.

Many hours are put into each baby. What I start with are five basic parts: 2 arms, 2 legs and 1 head. It is neutral vinyl. I put many hours into painting each layer with heat set paints, my babies have about 25 layers of paint that I bake in between each layer! These paints will never chip or fade. I insert the eyes, hand root individual eyelashes and micro root each individual hair into the babies head-the hair looks as though it is literally growing right out of the scalp! Tiny capillaries and veins are even painted, adding to the extreme realism of my collector babies...they are then 'assembled'...each baby is given a custom doe suede body that comes in flesh color, baby boy blue, baby girl pink or ethnic.

Babies are stuffed with fine glass pellets in sealed pouches and fiberfill. Babies are so cuddly and floppy just like a real baby! Magnets are added so that baby can take a pacifier and most of my little girls have magnetic hairbows. When you custom order a baby from my nursery, you pick every detail: hair color, eye color, ethnicity~everything! Before the babies are shipped out, they are signed by me on their tushy making each baby a custom, heirloom quality collectible.

Thank you for looking at my babies!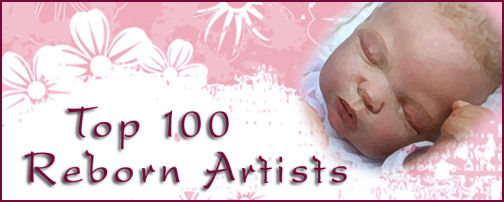 But Jesus said, "Let the little children come to Me, and do not forbid them;
for of such is the kingdom of heaven."

Matthew 19:14